Niche Stuttgart | Twin Turbo G35s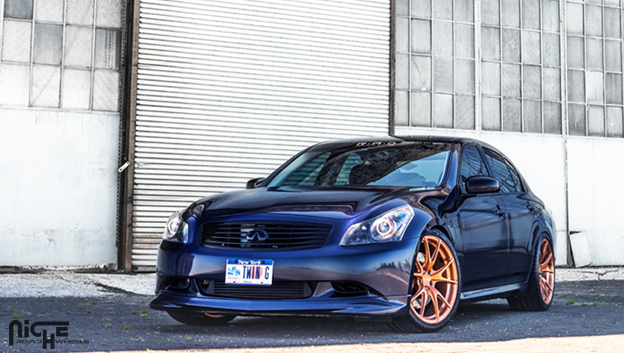 Featured this week is Tommy D'Anna's 2007 Infiniti G35s. Stepping his wheel game up, he went with a forged one piece Niche Stuttgart | 20x9 front / 20x10.5 in the rear. With a brushed copper finish. He chose to wrap his wheels in Michelin Pilot Super Sports [255/35's front and 295/30's rear].
This car is no slouch. Real Auto Dynamics built GTM Stage 2 Twin Turbo kit making 480 rwhp / 420 ft/lbs torque and Phenomenal Vinyl hooked it up with a Hexis Dark Blue Pearl wrap, both companies based out of Oceanside, NY. This one is a head turner!