Fuel Offroad | Lucas Oil Offroad Race Series Regional | Lake Elsinore, CA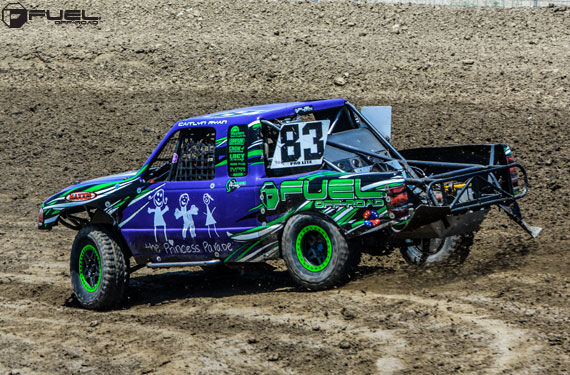 Check out some of the practice and qualifying action from this weekends Lucas Oil Off Road Racing Series regional this past weekend at Lake Elsinore Motorsports Park. Up and comer Joe Giib and Bret Jenkins were representing Fuel Offroad. Joe in the Fuel Offroad backed prolite on our 16" front and 15" rear 2-piece forged Anza's and Bret in the Moores Metal Works 1400 series truck on our 17x9 cast Anza's. Both qualified strong, but unfortunately had technical issues prior to the main events and had to pull out of the races. In his 3rd regional event Joe qualified 5th behind Lucas Oil National Series veterans Myles Cheek, Ray Griffith, and Brock Hegar. Chris Gibb (Joe's father and the man behind the Mht Wheels machine shop) and his crew had the truck performing great going into the main event, however fuel pump issues caused the prolite from competing in the main event.
Bret ran into similar issues as his 1400 class Tundra failed to make it to the main event, but not before smoking the competition in qualifying 1st 3.1 seconds fast than anyone in Saturday mornings qualifying rounds. In all we were proud to see our Fuel team riders in action and more importantly, proud to represent "The Princess Parade" charity foundation for childhood rheumatoid arthritis and bring attention to this disorder that effects millions of young children every day. Be sure to check out the next Lucas Oil Race Series National event in Reno, Nevada May 30th and 31st as fellow team rider, Jeremy McGrath and Kyle Lucas will be competing in the Pro 2 and Prolite races. Photos courtesy of Eric Minks Photography and J Lacy Photos.