LOORS Rounds 3 & 4 Recap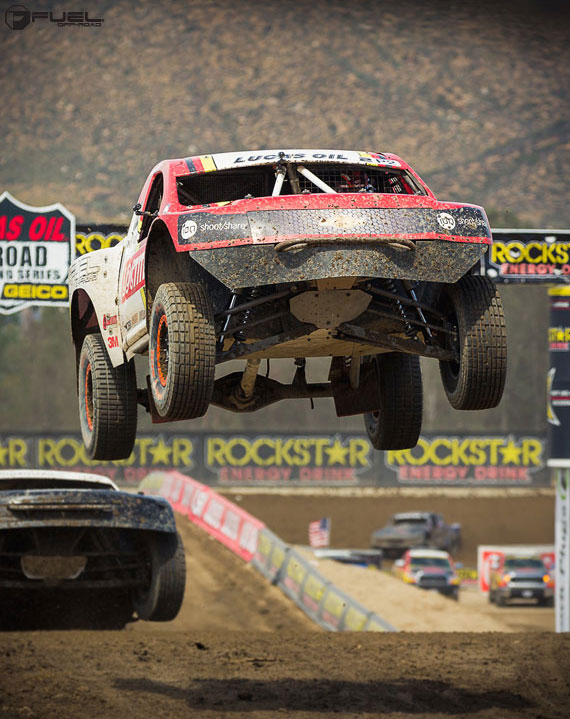 Lake Elsinore CA, April 28th 2014 - Jeremy McGrath Motorsports arrived in Lake Elsinore prepared to do battle for Rounds 3 and 4 of the Lucas Oil Off Road racing series. It would mark the first time that the series would race under the lights in Lake Elsinore. "This is my home track, I have all my friends, family and sponsors here supporting me. I'm going to do my best to get the Loctite, Fuel Off-Road #2 on the podium," said McGrath.
At the start of the main event on Friday night Jeremy found himself in the fifth position on lap one. The field was running tight and every truck was bumper to bumper. The caution came out only moments after the green due to Travis Pastrana going end over end in a jaw-dropping crash. Travis suffered a few broken bones and a concussion but would be ok. The race resumed several minutes later and the #2 Loctite found its way up to the 3rd position on lap 3. "The truck is feeling great, I am ready to make a run on the leaders," said McGrath over his radio. Unfortunately, the truck started to lose power on lap 8 and McGrath had to go into salvage mode and start protecting the position and finished a respectable 5thplace. "I felt great tonight and thought we would be on the podium, but this is racing and mechanical issues are part of it. We had another fuel pressure issue tonight. The team will get to work and we will be ready for Saturday," said McGrath after the race.
Saturday morning saw a very wet track after a major downpour the night before. During the track inspection it was obvious the track would be very one lined and a good qualifying position was necessary. McGrath put in a great effort during qualifying and came away with the fourth fastest time putting the Loctite, Fuel Off Road Pro 2 on the outside of row two. The field charged into turn one with Deegan leading followed by Bryce Menzie and Rob Mac. McGrath held it wide open around the outside of turn one to take the third position and pull up alongside Menzie. On lap 6 the running order was still Deegen, Menzie and McGrath. Jeremy stuck the nose of his truck inside Menzie in turn number three to try and make a move, but came in a little too hot and spun out. "I did not want to come into Bryce that hard, but I want to win and felt like I needed to make a run at Deegan before he got away. We are four races into the series and we are getting better as a team each day. I wish we had another race tomorrow, I can't wait for Reno," said McGrath as he climbed out of the truck. Jeremy McGrath Motorsports finished with a 5th and 7th in Lake Elsinore for rounds 3 and 4 and wishes to thank each and every JM2 sponsor for making all of this possible! The next event on the series schedule will put the team in Sparks, NV on May 30 and 31.