Jeremy McGrath's Round 2 Podium Finish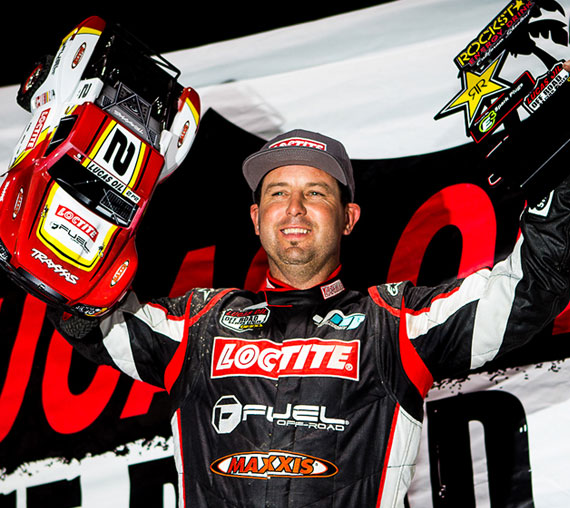 Jeremy McGrath Motorsports starts 2015 season with Podium finish and leaves Lake Elsinore CA 3rd in series points championship, debuting his signature JM2 Jeremy McGrath wheel. "I feel great about where we are as a team right now. We did a lot of testing and put in the hard work over the last several months. Loctite, Fuel Off Road Wheels and Maxxis tires have given us the extra support we needed to push the limits and be competitive in the Pro2 class." Jeremy said on the podium Saturday night.
The team was strong all weekend and running in the top 5 every time it was on the track. The goal for JM2 this year is to always be in the top 5, no matter if its practice, qualifing or racing. Being prepared for any and everything is what short course racing is all about. The team learned a lot and improved steady during the inaugural year of racing last season.
The team has made several changes that are sure to elevate our performance in 2015. Long time off road racer and championship crew chief Danny Ebberts has joined the JM2 team. His mechanical experience and knowledge of racing brings confidence and commitment to winning.
Jeremy McGrath sits 3rd in points with a 5th place Friday night and a 3rd place Saturday night. The team heads to Chandler Arizona for rounds 3 and 4 on April 24th and 25th. Tune in to Mavtv for air dates and follow Fuel Offroad and Jeremy on instagram @fueloffroad @jeremymcgrath2