Fuel Racing | Joe Gibb #83 | Chandler AZ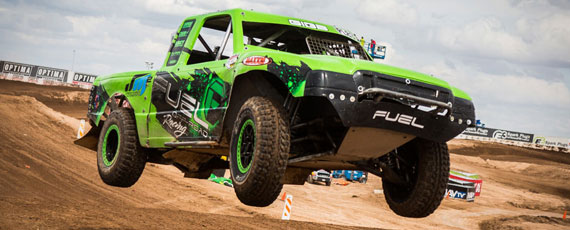 The Fuel Off Road and JM2 Motorsposrts Team rolled into Arizona for Rounds 3 & 4 of the Lucas Oil Offroad Series on April 24 & 25. Friday would see a downpour so strong that there was no practice or qualifying. By race time, the weather had cleared up and the track was prepped and ready to go. All 23 Pro Lites would start the race, lined up according to the point's standings. Joe Gibb, in the 83 truck, found himself starting 22nd in his first National Event. After 14 laps of bumping, banging and passing trucks more than once, Joe, found himself finishing 9th when the checkers flew. The team, crew and family members there were excited that he cracked the top 10 in a very hard field of racers. Saturday, the rain held off and so it was onto qualifying. Needing to qualify 8th or better out of his group, Joe, ran the track better than he ever has in qualifying and made it out of the group 7th. He would start 7th row inside for the main event. Again he proved that his truck had the power to make the passes he needed and he found himself in 9th with one lap to go, before something in the transmission would give out and the truck stalled just before the last turn. He would find himself finishing 16th.
It was a great weekend of racing! Joe's truck handled better than ever, thanks to the great crew at JM2 Motorsports and his hard working track crew. He is looking forward to getting back behind the wheel in a few weeks at Lake Elsinore Raceway, on May 30 & 31.