Wheel Collection
Product image shown not representative of all configurations. Vehicle specific fitment will change offset, dish and center profile. Please consult your salesperson for application specific details.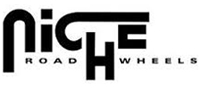 Niche Sport
Verona - M150
Details
Compatible with BMW, Mercedes Benz Caps.
Patents: D765574 and D770353
17x8, 18x8, 18x9.5, 19x8.5, 19x9.5, 20x9, 20x10, 20x10.5, 22x9, 22x10 SUV, 24x10 SUV.
Technical Specs
| Size | BP | BP 2 | Part Number | Finish | Bore | Offset | BSM (in) | Cap Num | Rating (lb) | Weight (lb) | Lug Type | LipSize (in) |
| --- | --- | --- | --- | --- | --- | --- | --- | --- | --- | --- | --- | --- |
| 18X8 | 5x114.3 | | M150188065+40 | MATTE BLACK MACHINED W/ DARK TINT | 72.56 | 40 | 6.070 | 1003-22DDT | 1600 | 29 | Conical | 0.25 |
| 18X8 | 5x100 | | M150188080+40 | MATTE BLACK MACHINED W/ DARK TINT | 66.06 | 40 | 6.070 | 1003-22DDT | 1600 | 29 | Conical | 0.25 |
| Size | BP | BP 2 | Part Number | Finish | Bore | Offset | BSM (in) | Cap Num | Rating (lb) | Weight (lb) | Lug Type | LipSize (in) |
| --- | --- | --- | --- | --- | --- | --- | --- | --- | --- | --- | --- | --- |
| 19X8.50 | 5x120 | | M150198521+35 | MATTE BLACK MACHINED W/ DARK TINT | 72.56 | 35 | 6.130 | 1003-22DDT | 1600 | 34 | Conical | 0.25 |
| 19X8.50 | 5x114.3 | | M150198565+35 | MATTE BLACK MACHINED W/ DARK TINT | 72.56 | 35 | 6.130 | 1003-22DDT | 1600 | 34 | Conical | 0.25 |
| 19X8.50 | 5x112 | | M1501985F8+34 | MATTE BLACK MACHINED W/ DARK TINT | 66.50 | 34 | 6.090 | 1003-24DDT | 1600 | 28 | Conical | 0.25 |
| 19X8.50 | 5x112 | | M1501985F8+42 | MATTE BLACK MACHINED W/ DARK TINT | 66.50 | 42 | 6.400 | 1003-24DDT | 1600 | 28 | Conical | 0.25 |
| 19X9.50 | 5x114.3 | | M150199565+35 | MATTE BLACK MACHINED W/ DARK TINT | 72.56 | 35 | 6.630 | 1003-22DDT | 1600 | 35 | Conical | 0.25 |
| Size | BP | BP 2 | Part Number | Finish | Bore | Offset | BSM (in) | Cap Num | Rating (lb) | Weight (lb) | Lug Type | LipSize (in) |
| --- | --- | --- | --- | --- | --- | --- | --- | --- | --- | --- | --- | --- |
| 20X9 | 5x120 | | M150209021+35 | MATTE BLACK MACHINED W/ DARK TINT | 72.56 | 35 | 6.380 | 1003-22DDT | 1900 | 28 | Conical | 0.25 |
| 20X9 | 5x114.3 | | M150209065+35 | MATTE BLACK MACHINED W/ DARK TINT | 72.56 | 35 | 6.380 | 1003-22DDT | 1900 | 28 | Conical | 0.25 |
| 20X9 | 5x112 | | M1502090F8+25 | MATTE BLACK MACHINED W/ DARK TINT | 66.50 | 25 | 5.980 | 1003-24DDT | 1900 | 31 | Conical | 0.25 |
| 20X10 | 5x114.3 | | M150200065+40 | MATTE BLACK MACHINED W/ DARK TINT | 72.56 | 40 | 7.070 | 1003-22DDT | 1900 | 27 | Conical | 0.25 |
| 20X10.50 | 5x112 | | M1502005F8+27 | MATTE BLACK MACHINED W/ DARK TINT | 66.50 | 27 | 6.810 | 1003-24DDT | 1900 | 30 | Conical | 0.25 |