Lucas Oil Offroad Series Rnd. 9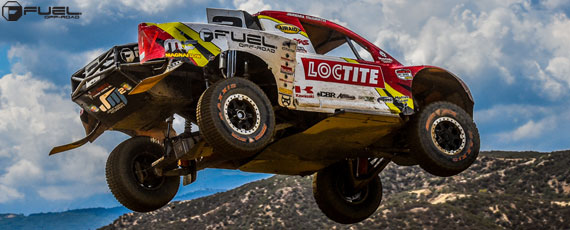 "We have been out here testing several times and know the Loctite, Fuel Offroad Truck is fast with the right gear set and suspension set up. I am confident we can be on the podium both nights." said McGrath in a pre race interview. Although the team was ready and prepared for anything, the weather came in heavy and the Saturday night even was delayed until Sunday Evening.
When the green flag dropped, the #2 truck was in the 3rd position and charging hard. In a matter of moments the lead truck over rotated in turn 4 causing a pile up and McGrath getting turned around from behind. Just like that, from 3rd to 14th.
After getting the truck pointed in the right direction McGrath had to dig deep and start picking off trucks one by one to salvage as many points as possible. As luck or no luck would have it, the race continued non-stop with our a single caution flag. Jeremy was able to move the #2 Loctite, Fuel Offroad truck up to 8th position.
The team regrouped and had the truck prepped and ready for round 10 scheduled that same night. Heavy rain and lightnin caused the promoters to cancel the event once again. The make up event is tentatively scheduled during the final round at Lake Elsinore on October 23rd.
"Its disappointing not to be able to race here at Glen Helen. I love this track and felt we had a solid shot at winning. Not much we can do but keep working hard and try to make up points. We are still sitting in 3rd behind Rob Mac and Bryce Menzies. The team is excited to race in Mexico this weekend." Jeremy explained after the race was cancelled on Sunday night.
Fuel Offroad and McGrath Motorsports would like to congratulate JM2 Pro-Lite #83 driver Joe Gibb on his come from behind 7th place finish. Be sure to follow Jeremy and Joe on facebook and instagram as we head into the 2nd half of the season. @jeremymcgrath2 @joegibb83.